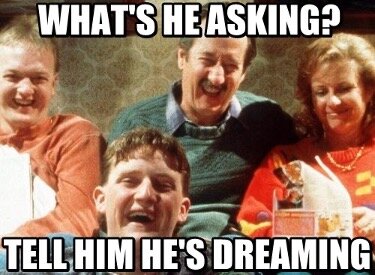 Well, I was taught a lesson that made me both laugh and think.
It was during school holidays with the first day of school approaching, which means I had bored children at home as well as back-to-school preparation to get on with, buying uniforms, books, new lunchboxes – you know the drill.
My 12-year-old son asked if he could take public transport to the local shopping centre with friends. He is at that age between being a little boy who still loves a lie-down at night with his mum every, now and then, and being a teenager who knows it all and thinks he is turning 25.
Off he went, with my blessing, and the directive to buy school shoes. I was pleased with myself for having killed two birds with one stone, since I now also had some peace and quiet and was able to get back to work.
A few hours later I received a text message from my son telling me that the shoes had been reduced from $1200 to $700. As I was multitasking, I only glanced at the message. I assumed he'd made a typing error and that what he meant was that the price of the shoes were $70, reduced from $120. "Great,' I thought. 'Bargain.'
A few minutes later I receive another text saying, '$700 is a good price, thoughts?' Thinking this was odd I looked back at the previous messages and realised that he was not talking about school shoes, but about a new iPhone. He has been nagging me for a while about needing a new phone and my answer had consistently been, 'You're dreaming.' (For those who haven't seen it, The Castle is a must.)
I called immediately, told him again that he was dreaming, and that was the end of that.
When he got home, I asked him, 'What made you think I would ever say yes?' His response made me proud and also made me laugh.
'Mum, you miss 100% of the shots you don't take, so I took it!' He grinned and walked off, and I was struck by the following thoughts.
Kids observe and learn from what they see and hear from you. Since we have been working at home Lucas must have heard hundreds of my coaching sessions, and while I don't usually use sporting analogies I can often be heard saying things like, 'If you don't ask, the answer is already no.' The children have also heard many of the conversations my husband and I have had about Peeplcoach, business and life in general. There is no doubt they would have heard us say the words, 'What's the worst that can happen?' or 'Let's go for it – they can only say no.'

I was reminded just how much what we say and do impacts those we are surrounded by – our friends, work colleagues and extended family. Our role as unconscious role models can have a critical impact on the people we're close to.

Be present – multi-tasking nearly cost me a new phone

How many of us have stunted our own progress, success and happiness because we didn't take a shot?
And, finally, I thought: if he is like this now, how on earth will I cope when he is 16?!
The lessons children give us are priceless.